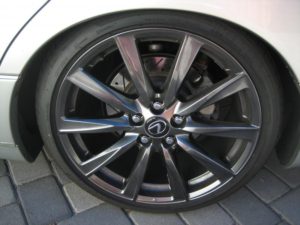 Code Cracking HYPER-Silver
Hyper-silver is a very complex coating  process as I have mentioned in previous Posts. Used effectively it can attract attention to wheels without the difficulties associated with chrome, and without detracting from the beauty of the car. Originally developed in Germany, the finish first appeared only on some BMW, Audi and Saab models, but the look became extremely popular and Lexus and Infiniti soon followed.
Today most foreign car makers offer at least a few wheels in this finish. Many aftermarket wheel companies offer a variety of HYPER-Silver finishes as well. But its important to understand that there are only five (5) authorized HYPER-Silver colors from which to choose. A general lack of cleanliness in the paint booth, poor quality or the condition of tools and a possible lack of attention to detail can make these exacting color combinations very difficult to achieve. 
 CLICK Here – "Living in a Powder Coat World"
So, when color matching a wheel to an existing set on a car, truck or SUV, it is usually best to include a second wheel off of the same vehicle for the wheel shop to use for comparison. This will ensure that the technician achieves a perfect match. However, this can only be accomplished by very few companies who are willing to spent the required time "Cracking the CODE" of HYPER-Silver coatings.
Cleaning: You should clean your HYPER-Silver wheels just as you would any other clear-coated wheel; with simple soap and water. Avoid using chemical cleaners such as P21s wheel cleaners, Simple Green or other harsh solutions.
Note: As a special upgrade, better wheel shops may offer a "Ceramic" top coat to enhance the durability and preserve the clear coat on your wheels (Cera-Tek being the highest quality brand.) Professionally applied Ceramic will make your finish last longer and will not allow brake dust, mud or everyday dirt and grime to stick to your newly finished wheels.
Ceramic is obviously much harder and more durable than wheel wax. And there is simply zero elbow grease involved to keeping your treated wheels in "Showroom" condition. This tough polymer simply won't wear off! And the nicer your vehicle is, the more likely you will be to appreciate this quality treatment.
I'll address more specifics (tech talk) on Cera-Tek Ceramic coatings in the next issue.
Doc Wixson, RTP Quality Assurance