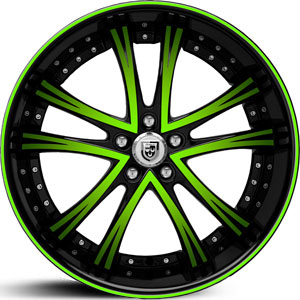 (

Gloss Black with

Chromium Green

)
The 13 stages of wheel refinishing
Dis-mount Tire
Wash/Scrub Wheel
Straighten Wheel
Repair Wheel – TIG
Sandblast Wheel
Detail Wheel
Prime / Bake
Chromium Powder / Bake (option)
Color Powder / Bake
Clear Powder / Bake
Cera-Tek® Powder Coat (option)
Mount Tire
Balance Tire/Wheel Assembly
{CLICK LINK for a Snap Chat Video!}  

Primer
After the prep stages, the primer is the first coat to be applied. The main functions of the primer are to act as a protectant (it protects from corrosion, heat differences, bumps, stone-chips, UV-light, etc.)  It also makes the base coat easier to apply to the wheel. It does this by making it easier for coating to stick to the surface and allows for a more varied range of powders and paints.
Base Coat / Color Powder
The base or color coat is applied after the primer coat. This is usually the layer referred to as the paint. Base coat used in automotive wheel applications is commonly divided into three categories: solid, metallic, and chromium pigments.
HYPER-Silvers and solid powder coatings have no sparkle, just color. This is the easiest type of coating to apply and lasts the longest due to its hardness.
Metallic powder coatings contain aluminum flakes that create a sparkle or grainy effect, generally referred to as a metallic or metal flake appearance. This material is more difficult to manage than solid colors. Metallic and chromium paints must be applied evenly to ensure a consistent finish without light or dark spots which are called "mottling". Metallic base coats are formulated so that the aluminum flake is parallel to the substrate maximizing the "flop" of the coating. Flop is the difference in the materials brightness by looking straight on vs. at an angle. This layer is then baked on just as the primer and clear coat that follows. It needs to be unaffected by the application of the clear coat
Chromium Coatings contain special iridescent pigments commonly referred to as "optic prisms". Optically Prismatic powder coats impart a glow to the finish much like a plated Chrome would, which creates depth of color when a Translucent color coat is applied on top of it. Chromium Coatings are four stage in nature (Primer, Chromium, Translucent color + Clear coat.) This treatment is available in Black Chrome, Super Chrome and many other custom colors. Stop in to see our Chromium display wheels in person. Absolutely STUNNING!
Clear Coat / Powder                                                                             
Sprayed on top of a colored base coat, clear coat is a glossy and transparent coating that protects the base coats from the environment. For this reason, clear coat must be durable enough to resist abrasion and chemically stable enough to withstand UV light.
Cera-Tek® (Ceramic)
Sprayed on top of a the Clear coat layer, Cera-Tek® is the highest grade of Ceramic surface protectant currently available. It is a glossy transparent layer that is harder than concrete. In fact, the only substance that is harder than Cera-Tek® Ceramic is a natural Diamond. It has an MOHS Hardness Rating of 9H and an Absolute Hardness of 400. Cera-Tek® is not available to unlicensed persons and is restricted from Internet sales.
Doc Wixson, RTP Quality Assurance